If you have completed an upload of a device and the data isn't showing up in your diasend® Personal account, there are a few likely explanations:

1. You are looking under the wrong tab
The data is displayed under the five tabs below, where you can access the glucose, CGM and insulin data. Please select the tab corresponding to the type of device you have uploaded.

---
2. You need to look at a different time interval
The default time interval is set to show the latest 14 days, but you can easily change this time interval to show a customized period.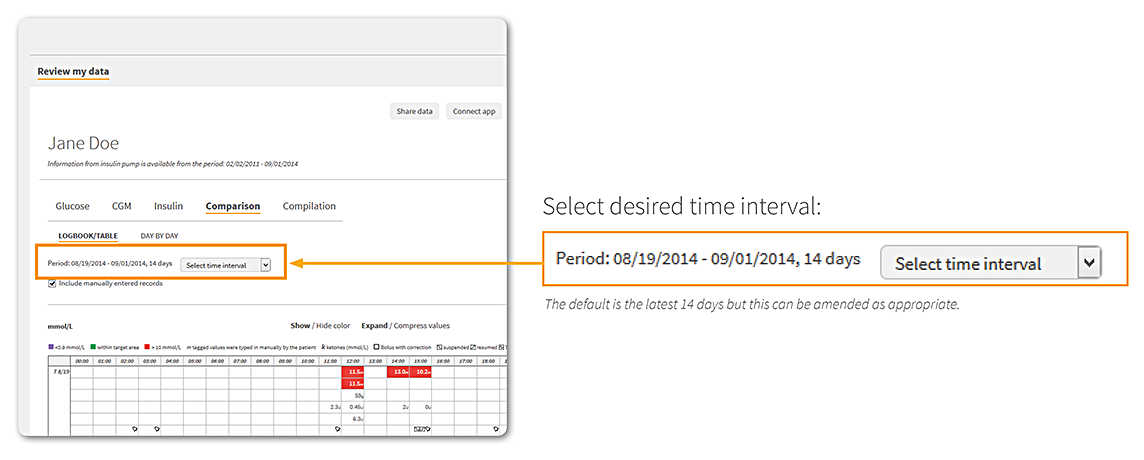 ---
3. The date and time setting in the device is incorrect

Check the date and time setting in your device (meter/pump/CGM). In order for the data to show up correctly in your account, the date setting must be correct.

If you find the date in your device to be incorrect, please reset the date and time immediately, in order to avoid new values being tagged with an incorrect time stamp.

Please note that once the data has reached our server, it can't be deleted/modified. You can retrieve the data in diasend® if you change the date interval to match the incorrect date setting. Above the tables in your account, click on "Select time interval" > "customized period" and select the date interval.

Have in mind that since no data can ever be deleted/modified, data with an incorrect time stamp might appear on a day that already has previous values.
---
4. The serial number for your device has not been saved in your account
Go to the tab "My Profile" and check that the serial number for your device is showing in the corresponding field. If not, please enter the serial number manually and then click on "Save my information".