If the diasend® Transmitter has a steady green light after a device was uploaded, it indicates that the upload was successful. If the data isn't showing up in your Clinic account there are two likely explanations:
1. The date and time setting in the device is incorrect
Check the date and time setting in the device (meter/pump/CGM). In order for the data to show up correctly in your clinic account, the date setting must be correct.
If you find the date in the device to be incorrect, please reset the date and time immediately, in order to avoid new values being tagged with an incorrect time stamp.
Please note that once the data has reached our server, it can't be deleted/modified. You can retrieve the data in diasend® if you change the date interval to match the incorrect date setting. Just above the tables in the reports, click on "select time interval" > "customized period" and select the date interval.
Have in mind that since no data can ever be deleted/modified, data with an incorrect time stamp might appear on a day that already has previous values.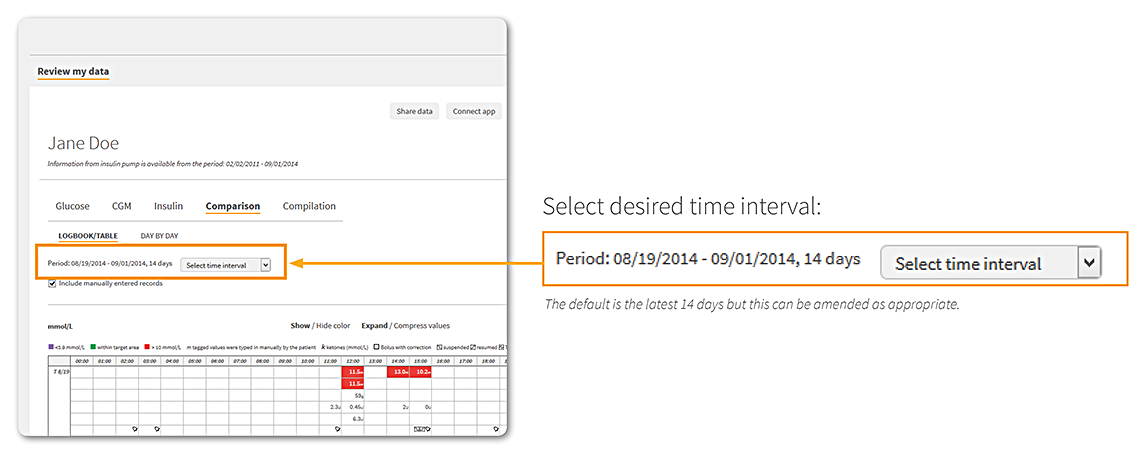 Click on the image to see a larger version 
---
2. You are looking under the wrong tab

The data is displayed under the five tabs below, where you can access the glucose, CGM and insulin data. Please select the tab corresponding to the type of device you have uploaded.

Click on the image to see a larger version